Download trial version of the DotFix NiceProtect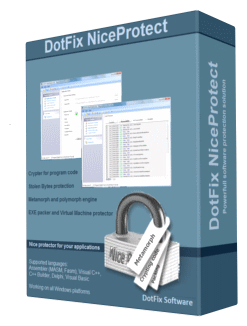 DotFix NiceProtect DEMO
Download file: nice_protect_trial.zip
File size: 4.3 Mb
Version: 6.8
Download Free DEMO
DotFix NiceProtect v6.8
is already available for registered customers.
What's new
DotFix NiceProtect End User License Agreement
Download file: license.pdf
File size: 41 kb
Download EULA PDF
DotFix NiceProtect can be uninstalled through system Control Panel ("Programs and features" or "Programs" -> "Uninstall a program"). Also you can use "Unistall" program in Start menu for uninstall via Standard Windows Installer service.