Packing options
This section allows you to pack the program with various options, which reduce result file size and will confuse crackers, because can't be unpacked and disassembled with Generic unpackers. Certainly, we recommend that you pack the program. It will not only strengthen its protection, but also reduce the size of the program, which is important for distributing the program via the Internet.
These options look like this: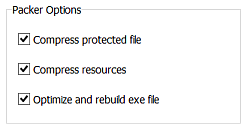 This option allows you to pack not only the program, but also the section of resources. It is quite useful, especially for Delphi programs.
Optimize and rebuild exe file
Optimizes the sizes of sections in the file and PE headers after the program is packed. It is recommended to enable this option.
Also packing allow you to deceive the hacking tools that determine the original compiler the program was compiled with.