Custom Messages
Use anti-debug protection
Es wird erkannt, wenn im Hintergrund ein Debugger arbeitet.
Wird ein Debugger erkannt, können Sie eine Meldung ausgeben (
Custom Messages)
: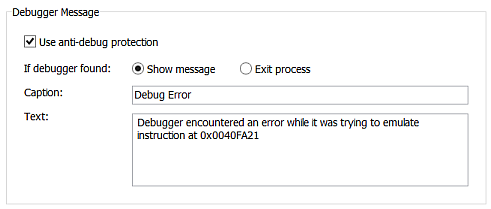 Ist diese Option "
Use startup message
" markiert, erscheint beim Starten des Programmes immer eine Meldung.
Beispielsweise könnte eine DEMO Version mit einem Starttext versehen werden:
You are using a feature-limited DEMO version of the program.
Purchase a license and enjoy it without limitations!
To do it, please visit our site at www.oursite.com
Die Meldungen erreichen Sie, indem Sie die Schalfläche
Messages
betätigen: